"Is that it?"
–
Tia-Clair Toomey after hearing Dave Castro announce the details of "Atalanta."
---
Swag Spotlight:
Hey CFK, get your orders in for our winter Skyline Hoodies!
Samples for sizing will be available to try-on at West through Wednesday 11/3, and at North Thursday through Monday 11/9. Deadline to order is end of day on 11/9!
Price: $35 each
Submit your orders and view sizing chart HERE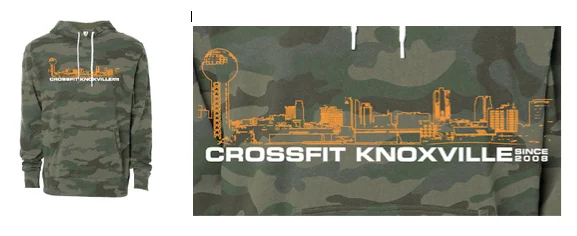 Weekly WODs: 
Monday  –  Power up your Pecs
Our conditioning piece is a spicy couplet of hand-release pushups and power snatches.  The goal for our conditioning workout is to go unbroken through the our power snatches and hand-release push-ups. Our post-workout pump will be a short bro-session of bench press.
Tuesday  –  The Rebate
Did you get your butt kicked doing Crossfit Open workout 20.2 a couple of weeks ago? That's okay we'll retest our longer duration open workout once again with a new strategy. Our 20 minute workout of dumbbell thrusters, toes-to-bar, and double unders is sure to challenge every athlete. If you found yourself swinging on the bar uncontrollably in the last few minutes of this workout it might be time to try a new break up strategy for toes-to-bar from the start.
Wednesday  –  Punch and Pray
We'll be getting under some heavy weights to start the week off.  We have the final retest of our 3 rep max clean and jerk in the first portion of class. Our conditioning couplet will smoke the legs and the forearms as we crush assault bike calories and hang cleans. If high intensity cycling isn't your thing (or you're just scared) we'll have a running interval option to sub for calories.
Thursday  – "Death Row"
This one is always an extreme challenge for most athletes. We'll be trying to hold on as we add one rowing calorie or one burpee to our previous "Death Row" score. If you haven't done this workout then it's a great day to stay conservative. "Death Row" can turn into a train wreck in later rounds if an athlete becomes overly ambitious. We'll have calorie and burpee rep schemes prepared for our "Death Row" newbies.
Friday  – Liar, Liar, My Arms are on Fire
It's grip city in today's workout. We'll be performing 15 Chest to bar pull-ups followed by Russian swings and goblet squats. If Chest-to-Bar pull-ups aren't in your wheelhouse we'll find a pull-up option that allows you to get off the bar in no more than two sets.  We would like to see unbroken Russian swings during the entire workout so choose wisely.
Saturday  – Crossfit/ Level 2
Don't dodge the the deadlifts this weekend! Our workout is filled with them. We have an buy in style interval run followed by a large number of moderately heavy deadlifts and box-jump overs. Our workout will end with an interval run "cash-out".
Level 2's class will have an added core strengthening EMOM from our competitor's programming. Athlete's will alternate through three static movements for five cycles. The movements in our level 2 EMOM will include the ring front leaning rest, active squat hold, and the hollow hold.
Saturday  –  Burn
There will be no swings left behind in today's double AMRAP. We have lunges, tuck-ups, American Swings, and Russian swings in today's burn class. If you aren't too enthusiastic about going overhead in the American swing we can always modify to the eye-level Russian swing.