"Be a yardstick of quality. Some people aren't used to an environment where excellence is expected."
-Steve Jobs
---
Supplement Spotlight:
Transparent Labs Mass Gainer

Most people will look at a protein container that reads "Mass Gainer", and automatically assume that it actually reads "Fat Gainer". This common assumption couldn't be farther from the truth! Transparent Labs Mass Gainer is created with no artificial sweeteners, no artificial coloring, and is overall just CLEAN! Even if your goal is to muscle maintenance you could opt to take 3/4 of a serving of Transparent Labs Mass Gainer. It nearly triples the amount of servings you get for your hard earned dollar! A full serving is complete with excellent carbohydrate sources which are needed for optimal recovery. These sources include oat, tapioca, and even sweet potatoes! These long term energy sources will help you restore glycogen, and get you ready for the next trip to the top of the leaderboard! Try Transparent Labs Mass Gainer Today!
Upcoming Events:
Shoulder Stability Workshop – This Saturday, 8 am @ CFK West with
If you experience shoulder pain while lifting, or just want to increase your strength and stability in the overhead positions, join coach Derrick this Saturday at West to learn how to earn those boulder shoulders!
Knoxville Full and 1/2 Marathon training Program with coach Mary
The new year is coming which means, at least at CFK, training for the Knoxville half and full marathon! Whether you're a seasoned veteran looking to smash a PR, or aspiring runner with your sights on your first race finish, coach Mary's got
your back! Check out the details of our training program 
HERE
Jingle Bell Run – This Saturday!
Get out and use that fitness this weekend! This year's race is special to CrossFit Knoxville and our community as a whole. Our athlete Jason Hamilton is on the committee and his daughter, Claire is the honoree! Check out the details and registration
HERE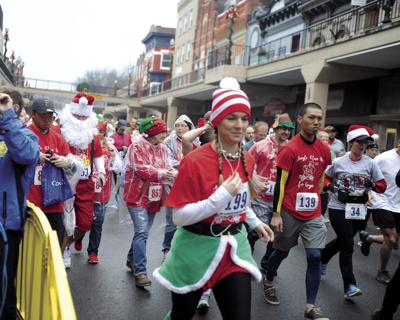 ---
Weekly WODs:
Monday – Get Good at a Get Up
We will cover the Turkish Get-Up in a low intensity skill session at the beginning of class. Our conditioning workout today will test our ability holding static positions during periods of heart rate elevation. We have double unders, kettlebell swings, planks, and wall sits in our 20 minute AMRAP!
Tuesday – Devil's Delight
The push press Wendler cycle continues this week! We will be getting heavy overhead. Our WOD is a double AMRAP that will test your cycling abilities with moderately heavy dumbbells. You will cycle through dumbbell devil's press, push press, and suitcase lunges. Push the Pace and try to EMOM this one!
Wednesday – "Straight 100" NCFIT Benchmark
We tested this workout a few months ago in our level 2 class! It's back again and ready to blast your legs! We have 100 reps of box jumps, wall balls, and calories on the rower for time!
Thursday – Hot and Heavy
Things are going to get uncomfortable on day 4! We will be setting a very aggressive pace on the bike or rower! We will be coming out HOT in an alternating EMOM of bike/row calories,  lateral burpees, and heavy deadlifts.
Friday  – Squat Day (Week 2)
We are deloading for our new squat cycle this week! We should have established a technical 5 rep max last week in order to reset to 75% this week. These weights should MOVE! Our strength work will be followed up with a conditioning workout of chest-to-bar pull-ups and front squats.
Saturday –  Free Community WOD at 9 am
Swing into your weekend with lots of kettlebell work! We have some new movements coming at you this week in our free workout! We have single arm kettlebell thrusters this weekend. Our double AMRAP also includes rowing calories and kettlebell swings.
Saturday  – Level 2  at 10:15 am
We have monostructural, weightlifting, and gymnastics wrapped up into one butt-kicking workout! We will begin our day with a strength piece that incorporates barbell back rack walking lunges and muscle ups! The 10k team row afterwards will be sure to flush out those legs!