"Next to trying and winning, the best thing is trying and failing."
-L.M. Montgomery
---
Supplement Spotlight:
Supplement Spotlight – D-Aspartic Acid

This supplement triggers the brain to increase the body's natural production and transportation of testosterone, and luteinizing hormone (LH). According to recent studies, T levels in men have drastically declined over the past decade while women  experiencing ovarian and other reproductive issues are on the rise. This could be due to the very flawed average American diet. D- Aspartic Acid can be used to increase muscle mass, strength, definition, and promote health of the reproductive system. Guys don't be D-ficient… Try D-Aspartic Acid.
Upcoming Events:
Bring-A-Friend Friday – This Friday (All Classes)
All classes are free and open to the public this Friday for December BAFF! Just for showing up, we'll give your friends a $100 gift card to use toward any renewing membership, so spread the word, and the fitness!
CFK Holiday Chili Party & Gift Exchange – This Friday, 7:15 pm @ North
Bring your favorite chili or side dish to share, and a wrapped gift, less than $20, to participate in the white elephant gift exchange! There will be plenty of drinks and cheer to go around!
Girls on the Run 5k (Volunteer Water Table) – This Saturday, 9am – 11:30am
We've got another water table to staff this weekend, with the Girls on the Run! This race helps raise money for the Knoxville chapter, which helps young girls in the area learn life skills through exercise and running! If you'd like to help out, please register on the sign-up sheet at the gym, or 
email Coach Rick,
or register to run
HERE
Jingle Bell Run – Saturday, December 14
This years race is special to CrossFit Knoxville and our community as a whole. Our athlete Jason Hamilton is on the committee and his daughter, Claire is the honoree! Check out the details and our CFK Discount code 
HERE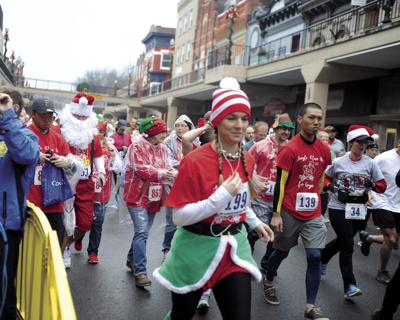 ---
Weekly WODs:
Monday – "Rannie"
"Rannie" might not be as sweet as her sister "Annie"! The NCFIT benchmark "Rannie" incorporates a 400 meter run after each complete set of the original "Annie" workout. Get ready to bust up the midline with a high volume sit-up and double under workout!
Tuesday – Muscle-Up Buttercup
What's on the menu for Day two? Hang power snatches, lots of air squats, and muscle-ups! If we don't have the muscle up just yet we have a few options! We can do jumping bar muscle-ups or maybe even scale the reps if we have a few of them.
Wednesday – Wendler Cycle (3×3) and Assault Bike Appreciation Day
We established a 1-rep max on the push press a couple of weeks ago. We will be using these numbers for 3 sets of 3 push presses as we continue our short Wendler cycle. If you didn't test your one rep max it's okay! Today's workout can still be used to work technique and perfect your craft on the vertical "dip and drive"! We will be making use of our favorite piece of gym equipment in a short and snappy WOD. We have 1 round for time of 50/40 assault bike calories and 50 kickbacks!
Thursday – "Do you Even Box Jump, Bro?"
We have a four round for time workout today consisting of high box jumps, heavy deadlifts, handstand pushups, and strict pull-ups. The deadlifts should be completed only as singles. Do you know what that means? You might need to eat some wheaties before you pick up these bars! You'll sleep good tonight!
Friday  – Squat Day (Retest) and "Point Break"
We will be testing again for the new 8 week squat cycle! Our squats will be followed by a lighter version of the NCFIT benchmark workout "Point Break". We are scaling the loads today in attempt to go unbroken on this workout. The front squats and bar-facing burpees in this workout will heat up the quads and burn the booty.
Saturday –  Free Community WOD at 9 am
Box Jump over with a buddy on Saturday! We have an alternating partner workout that includes rowing intervals and box jump overs. We'll cap the day off with some ab work afterwards!
Saturday  – Level 2  at 10:15 am
We have a skill and conditioning workout today in an EMOM format that will make your upper body as stout as an ox! We have an alternating EMOM of dumbbell push press, dumbbell push jerks, and a rope climb variation of your choice. If bands make you dance, then you'll have fun with our finisher! It's all about banded strength work!